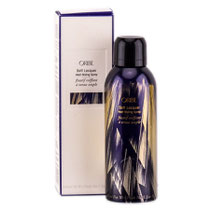 2014 Genius Awards .. A protective heat activated spray, such as Oribe Soft Lacquer, applied before styling hair."For hair to look really, really luxurious, it has to be treated well." ORIBE Soft Lacquer Heat Styling Spray creates styles that "last for days"
Who
Anyone who wants high shine or likes to play with hot tools What High-gloss heat-styling spray Lacquer finish and polishing Flexible hold with incredible memory Thermal styling protection Formulated without parabens or sodium chloride. Color and keratin treatment safe. UV protection for hair.
When
one of our most misunderstood products; a setting lotion, heat-styling tool and polishing mist. Use before heat for flexible hold, memory and shine. Leave untouched to set looks with high-gloss finish. 
At Anastasia K Salon we offer all of Oribe hair products 
Loading Twitter messages...